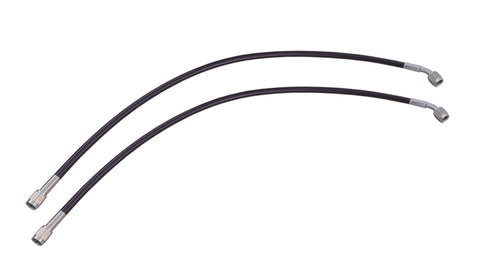 Stainless Steel Braided Brake Hoses with Black Vinyl Cover 21"
$ 59.99
PART NUMBER:RSC-55151
FEATURES:

Take your brake kit 1 step further with high quality USA mad brake lines. All stainless steel ends and hose with black vinyl covering for a more traditional look. Designed with a common -3 female thread at each end ready to accept the appropriate adapter fitting to suit your specific application. Designed at the perfect length and angles to suit all early 1298 - 1948 Hot Rods and Customs without binding or interfering with other components.

WHAT'S INCLUDED:


| | |
| --- | --- |
| 2 (TWO) | Stainless Steel Brake Lines -3 to -3 |

NOTES & TIPS:

Different brake kits and frames require different brake fittings. You will need to buy the appropriate fitting to suit your application to go from female -3 to the correct size for your application.