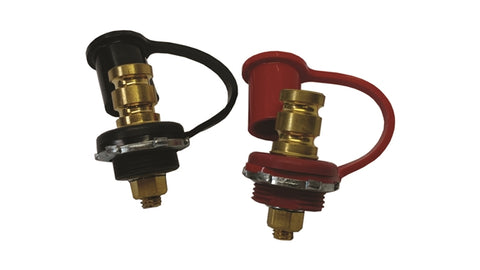 Remote Mount Battery Jumper / Charging Terminal Studs
$ 24.99
FEATURES:

Universal Application

Required Mounting Hole Diameter: 1.270"

Remote mount jumper terminal studs are a must in applications where the battery is hard to get at, or if using shaved door handles that fail with a dead battery. These allow remote mounting to jump start or charge your ride. It is also common for builder to mount them below the body just to avoid battery cables sitting on the paint work. Rubber covers are included to prevent weather and road damage to the terminals.



| | |
| --- | --- |
| 1 (ONE) | Red Covered Jumper Stud (Positive) |
| 1 (ONE) | Black Covered Jumper Stud (Negative) |


NOTES & TIPS:

Remember to always replace rubber cap over terminals when not hooked up to help prevent weather and/or road damage.