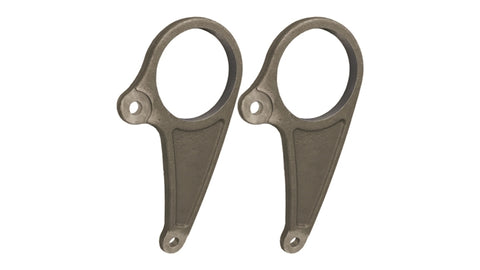 3" inch Rear Ladder Bar Housing Brackets Premium Forged
$ 84.99
PART NUMBER:RSC-54017
FEATURES:

Center to Center of Clevis Bolts: 5 3/4"
For Rear End Housing Tube Diameter: 3" (Oblong Hole For Triangulated Set Ups)

Forged steel is easy to weld and offers a more traditional look than stamped steel components. Designed for use on 3" rearends such as the Ford 9" with an oblong hole to suit triangulated ladder bar set up. 5 3/4" Clevis centers to accept most rear ladder bar kits. The extra thick body provides more strength and is machined down to fit common 3/8" wide clevises with 7/16" bolt.


WHAT'S INCLUDED:


| | |
| --- | --- |
| 2 (TWO) | Forged Steel Ladder Bar Housing Brackets |


NOTES & TIPS:

Know what ladder bars you have prior to buying ladder bar housing brackets. Although the 5 3/4" center to center used on our brackets is the most common, some manufacturers may use a different center to center spacing when fabricating ladder bars.

These brackets do not have a perfect 3" hole, they are oblong to suit triangulated kits. If using for a parallel application lots of filling weld will be required.