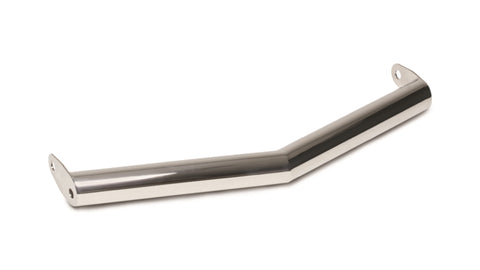 Pinched Ford Front V Spreader Bar Polished - 1932
$ 139.99
Suits pinched nose 1932 Ford chassis. Made from 304 Polished stainless tubing with TIG welded flanges. Fully polished, stainless steel finish with the welds polished smooth for a perfect finish on the 'V'. SOLD EACH
FEATURES:

Width: 21 1/2" (Pinched Nose 1932 Ford)
Tube Diameter: 1 3/4"
For Mounting Hole Size: 1/2"

Polished 'V' Bars are a great way to upgrade your hot rod. Made from 1 3/4" tubing to fill the gap at the front of the frame rails and carefully designed with the correct angle and offset flanges so the bar sits at the front of the chassis. The TIG welds are polished smooth at the front to keep everything looking seamless. It doesn't get any nicer and it's all made in the USA. These spreader bars are also available for stock width frames on this store. Search for Stock V Spreader Bar in the search box to learn more.


WHAT'S INCLUDED:


| | |
| --- | --- |
| 1 (ONE) | Pinched '32 Ford Polished S/S Front V Bar |


NOTES & TIPS:

Custom length V bar spreaders are NOT available due to requiring of special fixturing and cut angle variance.