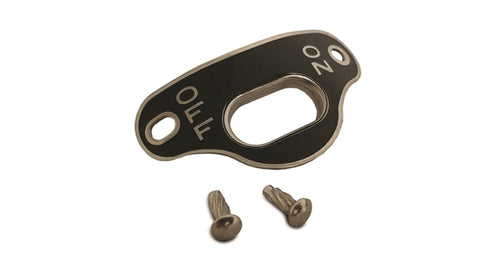 Ignition Bezel On/Off Plate with Rivets - 1932
$ 19.99
PART NUMBER:RSC-59008
FEATURES:

Replacement For Original 1932 Ford

Companies have tried making cheap alternatives in the past but nothing compares to an exact replica of an original. Pre-formed to the correct shape of the drop and with raised letters just like they should be. Knurled, polished stainless steel rivets also included.

WHAT'S INCLUDED:

| | |
| --- | --- |
| 1 (ONE) | 1932 Ignition Switch Bezel |
| 2 (TWO) | Stainless Steel Rivets |

NOTES & TIPS:

Use a soft chisel to guide/tap the rivets in during final assembly to protect the polished head. Start both rivets before driving in all the way.