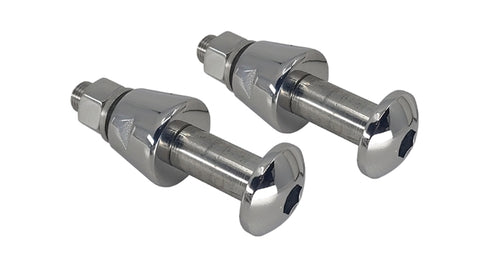 GT2 Shock Stud Mounting Kit Polished
$ 52.99
PART NUMBER:RSC-52165
FEATURES:

For Shock Mount Bracket Hole Diameter: 1/2"
For Shock Bushing ID: 5/8"
Spacing Away From Shock Mount: 1/2"

Do Not Use with Coil Over Shocks.

Designed with an extra-long 1/2" spacing away from shock mounts for ample clearance of tube style shocks, especially the covered designs. Investment cast, stainless steel construction fully polished and now with our specialty stainless steel GT2 button head mounting bolt. Carefully designed with side indentations formed in so a wrench can be used to properly tighten down and made as a 2 piece construction unlike any alternative; simplifying shock installation. These are used on several applications for front and rear fabricated shock mounts with 1/2" mounting holes.

WHAT'S INCLUDED:

| | |
| --- | --- |
| 2 (TWO) | Polished S/S Shock Stud Bodies with S/S Hardware |
| 2 (TWO) | GT2 Polished S/S Shock Bolts |

NOTES & TIPS:

Not designed for use with coil over shocks. Various coil over bolt kits are available on this store, search for Coil Over Bolt Kit in the search box to learn more.

Remember to always use Anti-Seize on all stainless steel and aluminum parts.