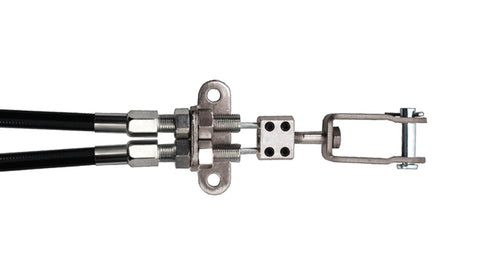 Gennie E - Brake Cables for Floor Mount
$ 164.99
FEATURES:

USA Made Gennie Shifter E-Brake Cables
At 9' Long these cables will suit almost any car or truck. Made to the highest quality to keep you safe and all made in USA. Black vinyl covered. Will work with all Gennie Shifter Floor Mount or Lo Line brake handles along with several other applications. Designed for use with drum brakes. If using rear disc brakes, special mounting clevises or hardware may be required depending on application to function properly. Contact your brake kit manufacturer for specific mounting requirements. Will NOT work with Trans Mount handles. Use GEN-2006, also available on this store.


WHAT'S INCLUDED:


| | |
| --- | --- |
| 1 (ONE) | E-Brake Cable Kit for Floor Mount / Lo Line Levers |
NOTES & TIPS:
After installation, cable tensioners will require proper tuning to set correct tensions. Be sure to follow the included directions during installation.