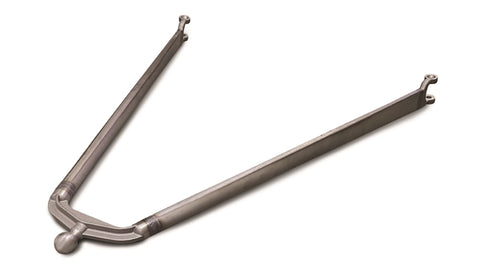 Ford UN-SPLIT Wishbones 2 1/4" Perch Boss - 1932
$ 499.99
FEATURES:

Designed For 1932 Ford - May suit other applications
For Perch Boss: 2 1/4"
Required Perch Centers: 36 1/2"

Carefully designed after stock original 1932 Ford samples with slight improvements. Made to suit new, 2 1/4" perch boss axles, and will work with stock 2" axles with use of a 1/4" spacer. Perch ends and ball ends are forged steel, not cast, and CNC machined for proper fitment. Tubes are electric welded with the tops ground smooth and TIG welded both ends, done right here in the USA. A truly excellent reproduction, plain and simple.

WHAT'S INCLUDED:

| | |
| --- | --- |
| 1 (ONE) | Stock Style 32 ford Wishbone for 2 1/4" Perch Boss |

NOTES & TIPS:

Wishbones do not offer the same adjustability as four bar kits and hairpin kits. Ensure the front axle is in place and set to the correct angle before welding in or installing wishbones, as the angle can not be adjusted after installation.

Tubes do NOT have the original small hole on the side that most hot rodders welded up over the years, we will leave it to you to drill if required for your application.