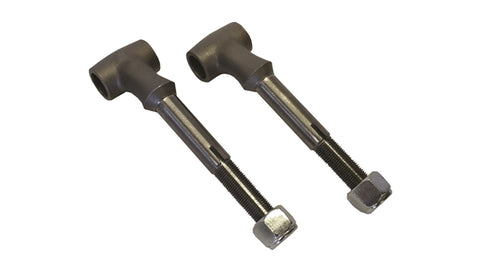 Ford Front Spring Perches Un-Polished Stainless 1928-1934
$ 84.99
FEATURES:

For Use With 1 3/4" Wide Springs

Thread Size: 5/8"-18
For Bushing diameter: 3/4"
Keyway Width: 0.125"
Perch 'Bolt' Diameter: 0.680"

American Hot Rod Parts' stainless perches are heat treated 17 - 4 Stainless Steel for added strength and designed extra long with a 0.125" wide keyway to eliminate lower shock mount rotation other brands face. The fixed head style on these perches not only looks traditional but also keeps the entire front end geometry consistent in relation to the spring; however, adjustable "swivel" perches are also available on this store if more caster adjustment is desired.

WHAT'S INCLUDED:

| | |
| --- | --- |
| 2 (TWO) | Un Polished Stainless Steel Perch Bodies |
| 2 (TWO) | Steel Nyloc Hex Nuts |

NOTES & TIPS:

American Hot Rod Parts' perches are also available in polished stainless steel and plain steel on this store. Search for Perches in the search box to learn more.

Remember to always use Anti-Seize on all stainless steel and aluminum parts.