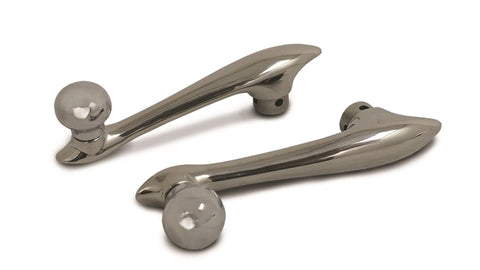 Ford 3 Window Coupe Window Crank Handles Polished - 1932
$ 99.99

Brand new reproduction. Designed after 1932 Ford 3 Window long point style. Suits closed car applications. Investment cast stainless steel, polished with die cast, chrome knob. SOLD IN PAIRS
FEATURES:

We are proud to present our reproduction long point window crank handles modeled after the very rare and hard to find 1932 Ford 3 window. Manufactured from investment cast stainless steel to prevent corrosion and pitting, and highly polished for a show quality finish with a die cast, chrome knob. Although designed after the 3 Window, these handles will fit all closed car applications including 5 Window, Sedan, Vicky, and Pick-up. Matching inside door handles are also available on this store. Search for 1932 Long Point Door Handles in the search box to learn more.


WHAT'S INCLUDED:


| | |
| --- | --- |
| 2 (TWO) | 1932 Ford 3 Window Style Window Crank Handles |


NOTES & TIPS:

1932 Open Car uses a different handle mechanism than closed car. These handle will NOT work with open car mechanisms.