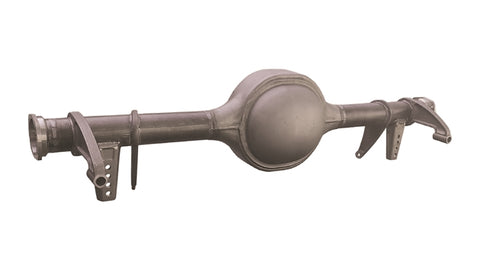 Buggy Spring / Ladder Bar Centered 9" Ford Rear End - Select Length
$ 874.99
FEATURES:

Skip the hassle of trying to locate and position all the bracketry on your rear end. These are made in a jig to be spot on every time and carefully designed to fit directly into our frames along with many other hot rod chassis. Features large 3" diam. tubing and uses all our forged bracketry for a more traditional look and stronger than ever. Made with a narrow perch center at 44" to accept narrowed straight 40's springs or narrowed Model A springs, and with 6 5/8" housing center to spring center. Ladder bar brackets accept 7/16" bolts and have a 5 3/4" hole spacing. Shock mounts feature 4 height adjustments to ensure the shock gets tuned to the correct height. These rear ends are a perfect start for any hot rod and available in different widths to get the wheels in the correct spot. The smooth center section has ample clearance for all third members and is set up centered with offset pinion so when you look at the back of the car everything looks symmetrical. We offer this rear end with a choice of either: Early style big bearing flanges or New style big bearing flanges to suit the 2 most common rear brakes on the market, be sure to select from the drop down menu. We do our best to stock 50", 51", and 52" wide housings which make up 55", 56", and 57" axle flange to axle flange when using standard 2 1/2" axle offset.

WHAT'S INCLUDED:

| | |
| --- | --- |
| 1 (ONE) | 9" Ford Centered Rear End Housing with Buggy Spring, Ladder Bar, and Shock Brackets Installed |

NOTES & TIPS:

Centered housing means that the pinion will be off center, requiring the axles to be different lengths. If ordering axles be sure to advise that the housing is centered to ensure you get the correct lengths.