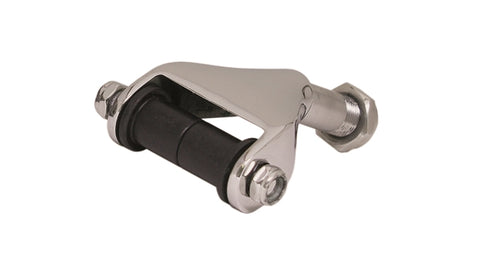 Adjustable Dead Perch Head Polished Stainless 1928 - 1934
$ 96.99
PART NUMBER:AHR-61110
FEATURES:

For Use With 1 3/4" Wide Springs
Install On Drivers Side

Shank Size: 5/8"
Bushing Outer Diameter: 3/4"

American Hot Rod Parts' stainless steel dead head perches are a great way to reduce unwanted bump steer. The dead head offers the caster adjustment of adjustable perches and further acts as a great alternative to a front panhard bar by eliminating side to side spring movement. This part replaces the swivel on adjustable perches.

WHAT'S INCLUDED:

| | |
| --- | --- |
| 1 (ONE) | Polished Stainless Steel Dead Head Assembly |
| 2 (TWO) | Urethane Shackle Bushings |

NOTES & TIPS:

American Hot Rod Parts' adjustable dead perch heads are also available in un polished stainless steel on this store. Search for Adjustable Dead Perch Head Un-Polished to learn more.

After setting final caster adjustment, all adjustable style perches can be welded at rotation point to eliminate front end rotation under high braking loads.

Remember to always use Anti-Seize on all stainless steel and aluminum parts.