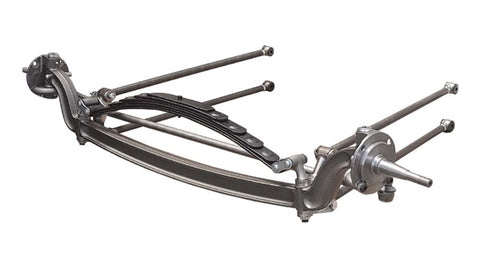 Adjustable 4 Bar Style Plain Complete Front End Kit 1928-1934
$ 1,469.99
PART NUMBER:RSC-45030
FEATURES:

Model A and '32/'34 Ford front end kit with maximum adjustability and strength. Nothing else compares to the reliability and ride of the 4 bar front end package. Made using all the right components for that traditional Hot Rod look and feel, and all from the highest quality parts on the market; including our Deuce Factory front 4 bar kit with stainless steel investment cast angled adjusters and batwings, Traditional shackles, Button type stack spring, and blind hole steering arms.

We understand that each car build is different and sometimes you just want or need something special. We have listed a few available options on this page to select from but there are hundreds of combinations we can offer. If you need more options or just want to talk it over with someone give us a call and ask how we can build the right front end package for your application.

WHAT'S INCLUDED:

| | | | |
| --- | --- | --- | --- |
| 1 (ONE) | 4" Drop Forged Steel I-Beam Axle | 1 (ONE) | Pair Traditional Steel Shackles |
| 1 (ONE) | Pair Forged Steel Spindles | 1 (ONE) | Pair Steel Fixed Perches |
| 1 (ONE) | Steel King Pin Kit Fitted | 1 (ONE) | Pair Blind Hole Steering Arms |
| 1 (ONE) | Reversed Eye Button Stack Spring | 1 (ONE) | Deuce Factory Style Front 4 Bar Kit |
| 1 (ONE) | Tie Rod Kit with Forged Ends | 1 (ONE) | Weld on Frame Bracket Mounting Set |

NOTES & TIPS:

Steering arm bolts are pictured for assembly purposes only and are not included in this kit. Each brake kit requires different steering arm bolts and should be purchased at time of installing brakes. For mock up purposes, we recomend using 1/2"-20 x 1" socket cap bolts.

All front end kits are shipped un-assembled to reduce freight costs.