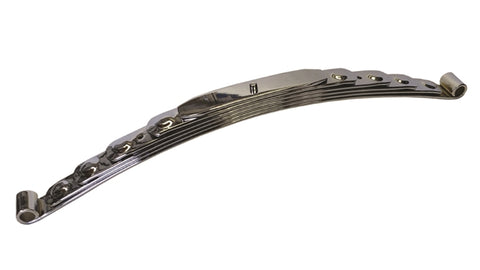 Model A Lowered Front Button Stack Spring 31 1/2" - Chrome
$ 279.99
PART NUMBER:SOC-63004C
FEATURES:

Fits 36 1/2" Perch Center Axles

Center to Center: 31 1/2"
For Bushing Diameter: 3/4"
Spring Width: 1 3/4"
Leaf Count: 6

Plastic 'Button' inserts used to provide an ultra smooth ride. The leafs are dimple stamped to hold the inserts in place and feature rounded off edges for a traditional hot rod look. All de-arched and manufactured with a reversed eye main leaf for an ultra low ride.

WHAT'S INCLUDED:

| | |
| --- | --- |
| 1 (ONE) | Chrome Spring Assembly |
| 8 (EIGHT) | Ultra Smooth Button Inserts |

NOTES & TIPS:

Always measure your axle's perch center to center width before buying a spring. 31 1/2" springs are used on axles with a wide 36 1/2" perch center, found on most after market 48" and stock 1928-1934 Ford axles. For a 35" perch center we recommend our 30" spring. For a 34" perch center we recommend our 29 1/4" spring. Search Stack Spring in the search box to learn more.

Reversed eye main leafs can be purchased by themselves on this store to update your current spring width or height. Search for Main Leaf in the search box to learn more.

Chrome is not designed to withstand continuous flexing. Springs may show evidence of wear such as cracking or flaking chrome over time.

All springs come assembled as pictured.