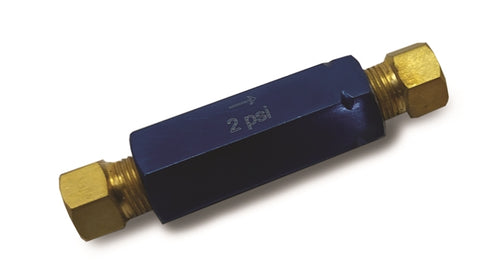 2 PSI Disc Brake Residual Valve
$ 15.99
FEATURES:


2 PSI for Disc Brakes
Residual Valve Thread Size: 1/8" NPT
Brass Fitting Female Thread Size: 3/8"-24 Inverted Flare

Residual valves help eliminate "spongy" brake pedals and shorten brake travel, making it easier to hit the brakes in an emergency and help balance the amount of braking power to the front and rear of the car. The 2 PSI residual valve keeps the suggested 2 pounds of pressure in the brake lines leading to disc brakes, that way when you apply the brakes there is already a minimum amount of pressure to assist your braking.

Hex shape design makes instalation easier by allowing a wrench to be fit around the valve from any angle unlike cylindrical alternatives.

WHAT'S INCLUDED:

| | |
| --- | --- |
| 1 (ONE) | 2 PSI Disc Brake Residual Valve with Fittings |

NOTES & TIPS:

Residual valves work like a check valve. Be sure to follow inlet / outlet arrow and install in correct direction for propper use.

DO NOT USE FOR DRUM BRAKES. Drum brakes require a 10 PSI residual valve.