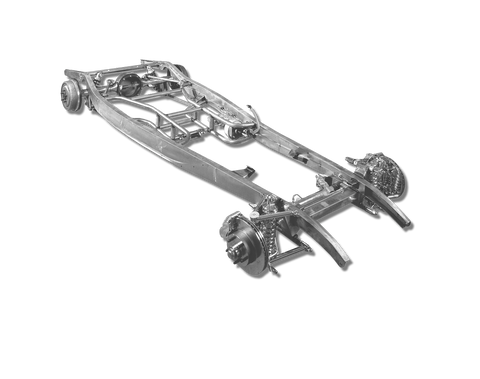 1932 Ford Independent Front Suspension Rolling Chassis
$ 13,313.99
1932 Ford Independent Front Suspension Rolling Chassis
Complete IFS front end w/GM brakes.
Tubular upper and lower control arms.
Front coil over shocks.
Motor Mounts (Chevy or Ford).
Transmission Mounts (Chevy or Ford).
Master cylinder mount.
Brake pedal.
Dual master cylinder.
Ladder Bar rear kit or/Rear 4®-bar kit.
9″ w/axles, new 11″ drum brakes and rebuilt 3.00 gear.
Coil over kit w/Viper Alloy Shocks.
Panhard bar rear.
Call 978.848.0024 to add options:
Brake upgrade option (includes polished 4-piston Wilwood calipers and 360 degree polished backing plates) CCPJ-2007B
Show polish on IFS includes CCPJ-2007PIFS:

upper and lower control arms polished stainless steel
Coil Over shocks are polished

Power brake option CCPJ-2007PB
Clutch Kit CCPJ-2007CL
Rear Power Stopper disc brake kit with emergency brake CCPJ-2007RB
Brake line Kit Installed CCPJ-2007L
Polished stainless steel brake line with AN fittings CCPJ-2007LP
Winter's Polished billet 9" Ford housing CCPJ-2007PW
Pro-street option (includes special cut on 9″ Ford housing) CCPJ-2007PRO
C-notch rear chassis for more axle to frame clearance CCPJ-2007NR
Wilwood Rear Kit with E-Brake and polished calipers CCPJ-2007WR