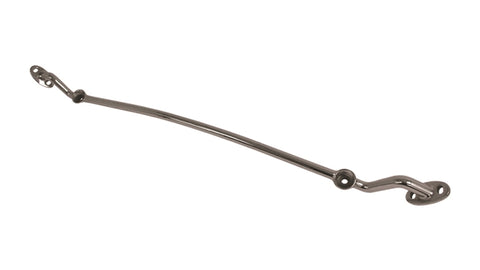 Ford Fendered Car Dropped Headlight Bar Polished - 1932
$ 229.99

FEATURES:

Fits 1932 Ford Passenger Cars and 1932 - 1934 Ford Pick Up

Constructed from 304 stainless steel tubing with investment cast stainless steel 4" dropped ends beautifully blended to tubing, all completely made in the USA. Headlight cups accept all original and aftermarket early Ford style headlights, including 1934 commercial lights. This headlight bar has a smooth bend rather than the 'V' style common from other manufacturers.


WHAT'S INCLUDED:


| | |
| --- | --- |
| 1 (ONE) | 1932 Ford Polished Dropped Headlight Bar |


NOTES & TIPS:

This headlight bar is designed and jig welded to fit an original 1932 Ford. Using an aftermarket chassis and/or body panels may cause the bar to not fit perfectly. The bar can be gently bent if necessary for better fitment, however; we will not accept returns on bent or modified headlight bars.