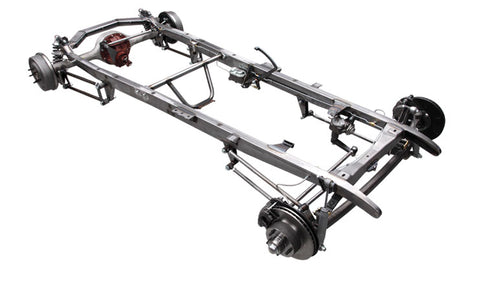 1928-31 Ford Model A Complete Modern Style Frame
$ 8,689.99
Standard Features

This chassis is setup to all original dimensions with the exception of raised rear crossmember (stock buggy style available), fully boxed 2"x4" x.125" rectangular rails for strength and appearance. Front and rear crossmembers are installed and all brackets are welded and pilot drilled. All body mounting holes are 3/8" nutserts.  
Drop axle with 4" drop, tube or I-beam
Choice of 4 bar or hairpin
Complete Vega cross steering
Front disc brakes (5x4.5" or 5x4.75")
Motor mounts (Chevy or Ford)
Transmission Mount (Chevy or Ford)
Dual master cylinder mount with master cylinder
Brake Pedal
Ladder Bar rear kit or rear 4 bar kit
9" Rear w/axles 11" drum brakes and rebuilt 3.00 gear ratio
Coil over kit w/Viper alloy shocks
Rear Panhard bar
SHIPPING AND CRATING IS AN ADDITIONAL CHARGE THAT WILL BE BASED ON THE WEIGHT OF YOUR CHASSIS BUILD. THIS WILL BE QUOTED TO YOU AFTER WE RECEIVE YOUR ORDER.
Additional available options

Power Brake Option FRPJ-1001PB
Smooth Backing Plate FRPJ-1001S
Finned Backing Plate FRPJ-1001F
Show Chrome on Front I-Beam Axle FRPJ-1001CAX
Show Chrome on Drilled Front I-Beam Axle FRPJ-1001CD
Clutch Kit FRPJ-1001CL
Chrome Front End Option FRPJ-1001CFE
Chrome on Posie Spring FRPJ-1001CSPR
Front Lincoln Drum Kit FRPJ-1001FLB
Brake Line Kit (Installed) FRPJ-1001L
Polished Stainless Steel Brake Lines with AN Fittings FRPJ-1001LP
Winter's Polished Billet 9″ Ford Housing Option (with New Axles) FRPJ-1001PW
Pro-Street Option (Special Cut 9 inch Housing) FRPJ-1001PRO
Front Duel Flex Spring (Plain) FRPJ-1001FS
Front Duel Flex Spring (Chrome) FRPJ-1001FSC
So-Cal Hairpin Radius Rods (Polished) FRPJ-1001PH
C-Notch Rear Chassis FRPJ-1001NR
C-Notch Front FRPJ-1001NF
Chrome Spindles FRPJ-1001CSPN
Chrome Tie Rod Ends (Set of 2 Lefts & 2 Rights) FRPJ-1001CTR
Drilled/Slotted and Zinc Coated 1″ Rotors (Pair) FRPJ-1001DSR
Wilwood Rear Kit with E-Brake and Polished Calipers FRPJ-1001WR
Chrome Rear Four Bar® Kit FRPJ-1001CR4
Polished & Chrome Coil Over Shocks FRPJ-1001CCO
Chrome Rear Coil Over Bolt Kit FRPJ-1001CRH
Chrome Ladder Bars FRPJ-1001CLB
Headlight/Shock mount FRPJ-1001HS
Wishbones on Chassis FRPJ-1001WB
Chrome Wishbones on Chassis FRP-1001WBC
Please call 978.848.0024 to customize your chassis