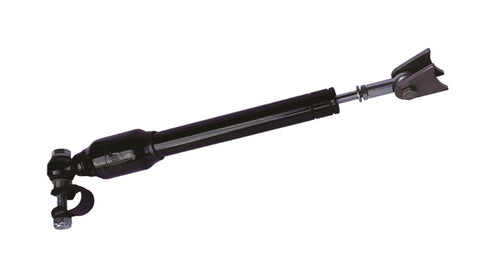 Weld On Style Steering Stabilizer / Damper Painted
$ 69.99
PART NUMBER:RSC-37770
FEATURES:

Weld on design for wishbones and custom hairpin applications were a tie rod clamp will not work. The stabilizer acts as a shock for the steering to help reduce unwanted "death wobble" or "shimmy" and makes the steering smoother. By using a heim joint, the stabilizer is easy to install and worry free of binding or misalignment issues.

WHAT'S INCLUDED:

| | |
| --- | --- |
| 1 (ONE) | Gloss Black Steering Stabilizer Kit |
| 2 (TWO) | Weld On Mounting Tabs |

NOTES & TIPS:

This kit is designed to clamp around 7/8" diameter tie rods. If using a 1" diameter tie rod, the clamp will need to be replaced. Tabs may need to be trimmed slightly to fit the contour of various applications.