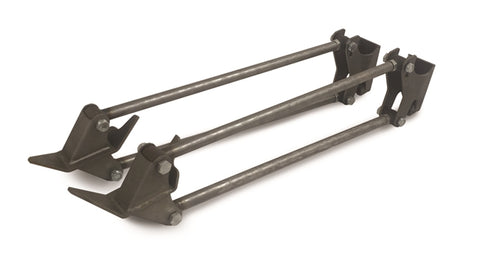 Shorty Rear 4 Bar Kit Steel Parallel
$ 399.99
PART NUMBER:RSC-52801
FEATURES:

Weld in Style
Suits 3" OD Housings

A rear four link kit really simplifies fine tuning your rear end, and this kit provides even further adjustability. Offering 3 positions for coil overs (ride height adjustability) and frame brackets that can be welded to the inside (most common) or outside of the frame rails based on application, and can be mounted either up or down to minimize interference. Made from DOM tubing and features forged steel adjusters. Shorty design is common for most 1932 - 1940 Hot Rod applications, but may suit others. See the Technical Specifications tab below for measurements. This kit is also available in a longer length, for Late 40's thru 1950s applications, as well as Model A kits and polished stainless steel versions on this store. Search for Parallel Rear 4 Bar in the search box to learn more.

WHAT'S INCLUDED:

| | |
| --- | --- |
| 4 (FOUR) | Steel Bars with Adjuster and Bushings Installed |
| 2 (TWO) | Weld On Rear Housing Brackets Coil Over |
| 2 (TWO) | Weld On Front Frame Brackets |
| 1 (ONE) | 8 Piece Steel Bolt Kit |

NOTES & TIPS:

This kit requires the use of a panhard bar to prevent lateral movement of the rear end. Various rear panhard kits are available on this store. Search for Rear Panhard Bar in the search box to learn more.

Refer to Technical Specifications below for measurements and bolt size information.