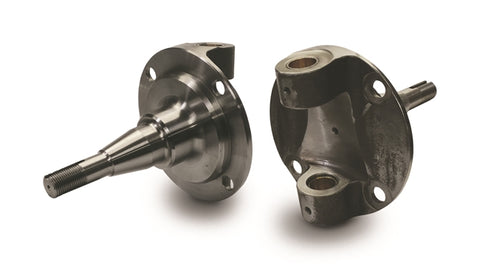 Forged Steel Australian Stub Axle Spindle Kit Ford Bushed and Reamed Plain 1937-1941
$ 239.99
PART NUMBER:RSC-36100
FEATURES:

1937-1941 Ford Round Back Spindle Design
For Use With 1928-1948 Ford Axles

Thread Size: 3/4"-16
Accepts Inner Bearing ID: 1.190"
Accepts Outer Bearing ID: 0.750"

Constructed from 1045 heat-treated Forged Steel. Designed exclusively for Australian applications using Falcon disc rotors and HQ or VR-VS calipers. Center mount grease fittings clear bolt on steering arms and keep front end symmetry over older designs that pointed grease fittings back on one side and forward on the other. Bushed and reamed spindle kits come with all bushings pre-installed and reamed; ready to install on the axle.

WHAT'S INCLUDED:

| | |
| --- | --- |
| 2 (TWO) | Forged Steel Spindles |
| 4 (FOUR) | Pre-Fit and Reamed Bushings |

NOTES & TIPS:

1928 - 1948 Ford axles use the same king pin diameter and geometry, allowing 1937 - 1941 spindles to easily be mounted. Always use a king pin kit designed for your year range spindle.