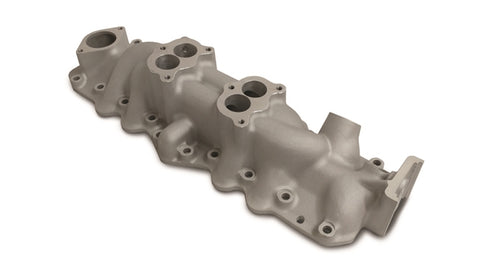 49 - 53 Flathead Dual Carb Intake Manifold Un-polished
$ 229.99
PART NUMBER:RSC-64025
FEATURES:

Fits 1949 - 1953 Ford Flathead

Upgrade to a dual carb, dual plane intake manifold for more power and better looks on your V-8. Designed to accept standard 3 bolt carbs (such as the Stromberg 97) and deliver superior air flow over stock components. 4 3/4" Carb spacing. Full polished assemblies are not currently available on our website, call for current pricing and availability.

WHAT'S INCLUDED:


| | |
| --- | --- |
| 1 (ONE) | Satin Finish Flathead Dual Carb Intake Manifold |

NOTES & TIPS:

This manifold will not accept the original generator in the stock location. You can either relocate the stock generator or aftermarket alternator, or use the shortened Powermaster PowerGEN 82023 (black) or 18023 (Chrome) to work in the factory position.

Bolts and gaskets not included

Remember to always use Anti-Seize on all stainless steel and aluminum parts.